It is more competitive than ever to hire truck drivers. Supply is decreasing and demand is increasing. One of the outcomes of this reality is that carriers are in an arms-race to offer the largest hiring bonus.
Is your company apart of this arms-race?
If so, how much is your truck driver hiring bonus?
$10,000 sign-on bonus is now normal
In June 2021, the driver candidate pool of available CDL drivers is small and the competition for these drivers is fierce. The need for qualified drivers has never been higher. Freight rates are high and demand is high.
Carriers however, are having to pass on freight loads because they do not have the drivers to meet the demand. The old way of attracting drivers does not work. A new approach is definitely needed. Still, the number one way to attract drivers to your company is to have a competitive "offer".
The best way to hook drivers on your job offer is by providing a large sign-on bonus. Currently in the industry, $10,000 is what it takes for a carrier to offer a competitive bonus.
Hiring Costs are Skyrocketing
In 2021, according to our conversations with carriers, the cost of hiring drivers has doubled and the time it takes to attract and onboard new ones has tripled in some areas.
Since the old ways are not working, carriers are realizing they must increase their budgets to be competitive.
Having a $10,000 sign on bonus is not new. According to the American Trucker, some companies have been offering high value sign on bonuses since 2017.
But now, to stay competitive, many more carriers are jumping to the high value bonus.
Both your advertising and hiring budgets must increase along with you driver compensation budget. The old way of budget-minded, low cost driver recruiting does not work right now. 
When we talk to carriers, we are finding that many carriers are spending thousands of dollars on the old methods and get nothing in return.
How Much can you Afford in 2021? 
Do you offer a sign-on bonus? Was $2500 a lot of money last year? Did $5,000 seem like a lot? Right now, the old sign-on bonuses do not work.
If you look at job ads, job boards and company websites, the current bonus is $10,000 for experienced CDL drivers. There are even ads are offering a $30,000 sign-on bonus for team drivers.
Show off Your Hiring Bonus.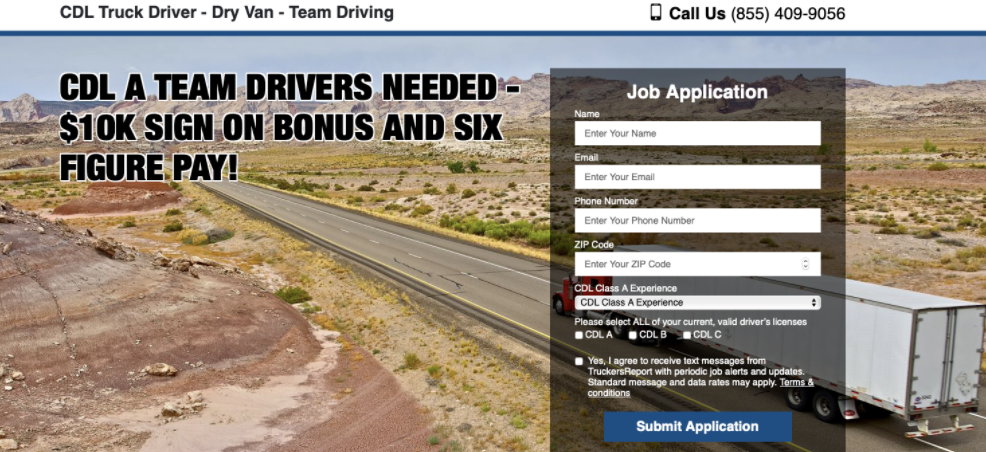 One thing is certain, there is no one way to attract drivers.
But, being boring is a good way to drive them away. Money is the best way to avoid boring.
Once you have determined your hiring bonus, you need to be loud and proud with that information. It needs to be at the forefront of your driver recruiting campaign.
A large hiring bonus in the title of the job ad will immediately hook potential drivers. Once they click on your ad, you are one step closer to hiring them.
Plus, your driver sign on bonus may be the determining factor between you and the competition. Go out of your way to make sure drivers know what you are offering so there is no confusion.
2021 so far is the toughest year ever to hire truck drivers. Carriers everywhere are scrambling to keep their trucks on the road. The hiring bonus is now an essential part of your job offer and needs to be used as a key recruitment strategy.
How much is your truck driver hiring bonus?